In May 2006, Bill Warnock, BLSCP member, attended an International Workshop on "Treatment, Prevention and Control of Echinococcosis" in Chengdu, Sichuan, China, which was hosted by Sichuan Center for Disease Control and Prevention. The 70 workshop participants, shown in this photo, were from China and eight foreign countries. The purpose of the workshop was to provide a regional, national, and international platform to consider the public health impact of echinococcosis, to consider optimization and improvement in treatment of human cases, to discuss risk factors, epidemiology and transmission, and assess the potential for current and long-term future control strategies in Tibetan community areas. BLSCP networked with many stakeholders about the need for a training project on diagnosis and treatment of echinococcosis with Lhasa City Hospital and developed new strategies for implementing the training project. Workshop participation and support was funded by a $5,000 grant from the Everest '96 Memorial Fund of
The Community Foundation Serving Boulder County
.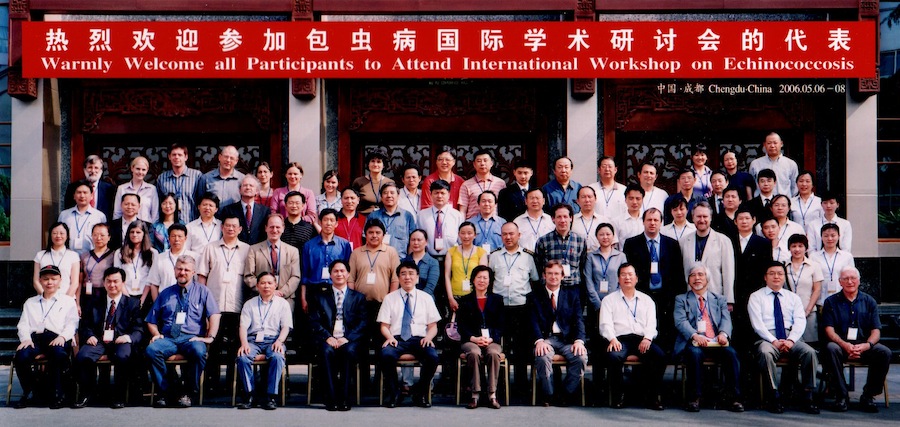 In September 2010, BLSCP members Bill Warnock, Carol Delker (registered nurse), and Megan Newton (professional photographer) led a 7-day training exchange in Lhasa Prefecture with Lhasa Municipal Health Bureau on "Diagnosis and Treatment of Echinococcosis." BLSCP's five expert trainers provided several lectures and demonstrations regarding this deadly parasite disease, which is causing extensive suffering by rural Tibetans. Click here to view a summary of the training exchange with several photos (PDF).
In October 2012, Bill Warnock, BLSCP member, attended an International Symposium on Cestode Zoonoses Control in Shanghai, China. Cestode zoonoses are tapeworm diseases that can be passed from animals, whether wild or domesticated, to humans. The symposium was organized by National Institute of Parasitic Diseases (Chinese Center for Disease Control and Prevention) and Asahikawa Medical University, Japan. With travel expenses paid from Bill's personal funds, he attended the symposium and made a presentation on "Echinococcosis Training in Tibet", which describes the BLSCP training exchange in Lhasa during September 2010. The symposium was attended by 96 participants from 13 countries, Chinese Ministry of Health, and World Health Organization. Bill was the only participant from the U.S.A.

Cestode zoonoses are a group of diseases being neglected by the global health community but causing serious health and economic damage to humans and livestock. Global control activities are still insufficient, particularly in Asian countries. The Shanghai symposium was organized to promote further global collective efforts and action for cestode zoonoses control. A total of 39 speakers addressed cestode zoonoses with respect to the current global situation, the status in Asian countries, and recent progress in Asia on epidemiology, ecology, biology, immunology, molecular taxonomy and phylogeny, control strategy, diagnosis, vaccine research, clinical treatment, and public policy related to control.
Most of the presentations were on echinococcosis and taeniasis/cysticercosis in Asia. After the presentations, all participants engaged in a round-table discussion on how to make a systematic assessment of the current epidemic status of cestode zoonoses and control strategy for cestode zoonoses. For the epidemiology and control of echinococcosis and taeniasis/cysticercosis, several "gaps" (missing elements in ongoing work) were identified. One of the gaps for control is "health education", i.e., education of communities where these diseases are prevalent. Education topics include life cycle of the parasite, how humans are infected, prevention methods, and control strategies.